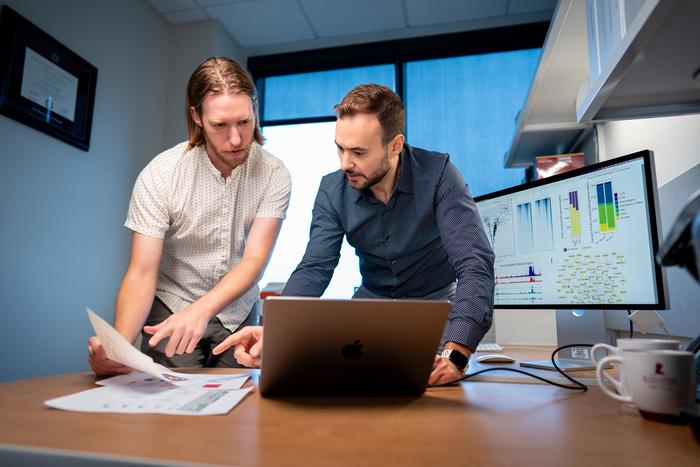 (MEMPHIS, Tennessee – November 20, 2023) Scientists at St. Jude Children's Research Hospital have described the gene regulatory networks that contribute to differences between subtypes of the most common childhood cancer, acute lymphoblastic leukemia (ALL). The work examined chromatin, the packaging that compacts DNA, in a group of patient samples six times larger than any previous effort. The results serve as a valuable resource to better understand why patient outcomes differ and, ultimately, improve treatments. The findings were published today in Cellular Genomics.
"We wanted to understand how ALL subtypes differ from each other at the genomic level and answer the question: what makes a leukemia cell a leukemia cell and not a healthy cell?" said corresponding author Daniel Savic, Ph.D., St. Jude Department of Pharmacy and Pharmaceutical Sciences. "To do this, we mapped the activity of non-coding molecular switches that control gene expression and contribute to the formation of gene regulatory networks in patient tumor cells and compared them to healthy cells."
Most cancer research has focused on mutations that occur in the "coding" portion of the genome, the less than 2% of human DNA that contains genes. However, the "non-coding" portion of the genome, which represents the remaining 98%, is also important and contains instructions for controlling how and when genes are expressed. Previous research has shown that perturbations in proteins that influence the non-coding portion of the genome are prevalent in several types of cancer.
The St. Jude group therefore examined the non-coding genome to understand what made a cancer cell a cancer cell. To do this, the scientists measured the accessibility of chromatin, the packaging that compacts DNA in the cell's nucleus. This determines which pieces of DNA are available to be read in a specific cancer cell. These sets of DNA instructions and genes available to a cancer cell, known as genetic regulatory networks, are key to understanding a cancer's identity – and, potentially, its weaknesses.
"Certain subtypes of ALL do not respond well to current treatments, and in many cases we don't understand why," Savic added. "This resource could be used to identify the underlying genetic regulatory differences that play a role in these heterogeneous treatment responses. Taking these changes in genetic regulatory networks into account, in the future, we could theoretically modify or generate therapeutics to treat each subtype more effectively."
Chromatin accessibility: the "window to the genome"
Chromatin refers to the DNA and proteins that help organize and package our genetic material efficiently. When chromatin is closed, it prevents gene expression. When chromatin is open, it makes DNA more accessible for gene expression and allows DNA to create three-dimensional structures that regulate this expression. Gene expression is the process of using the information contained in a piece of DNA, a gene, to create a functional product, such as a protein.
The St. Jude group assessed how open or closed chromatin was—its accessibility—across the entire non-coding genome in 156 pediatric leukemia samples. Looking at accessible chromatin and the switches or molecular instructions that reside there has given researchers insight into the complex genetic regulatory networks that determine cell type – including healthy cells versus cancer cells.
"Chromatin accessibility is the window to the genome," said first author Kelly Barnett, Ph.D., St. Louis Department of Pharmacy and Pharmaceutical Sciences. "Even though the genome is vast, 3 billion base pairs, we restrict which areas are important for understanding pediatric ALL."
Imagine the human genome as a big house with windows. Some windows are completely closed and others are completely open. Open windows allow people (transcription factors) to make changes; Closed windows keep people out. Chromatin accessibility analysis looks at which windows are open and allow people in – places in the genome that are open, active and limited by transcription factors. Researchers found thousands of open windows documenting differences between healthy and cancerous cells and, perhaps more importantly, between ALL subtypes.
Finding transcription factor footprints in ALL
The findings also included a comprehensive analysis of the footprints of transcription factors, or proteins involved in gene expression by turning specific genes on or off. These footprints are the predicted locations where proteins that regulate gene expression are likely to bind to open chromatin. Importantly, the St Jude team found that the pattern of transcription factor binding differed between subtypes, offering another way to understand the nuanced differences in gene regulation across cancer subtypes.
The researchers found that looking at the combined chromatin accessibility and transcription factor footprints of just 156 patient samples – identifying which windows were open – could be used to predict leukemia subtype with 89% accuracy. Conventional methods such as RNA sequencing based on thousands of samples have a predictive accuracy of 91%, suggesting that this new approach could improve subtype identification and therefore treatment approaches with larger sample sizes or when combined with conventional RNA sequencing approaches.
Superior samples achieve superior results
The maps generated by scientists are considered to be of the highest quality, generated from samples that are the gold standard in research. The group used cancer biopsies taken from patients, which were transported to the laboratory as quickly as possible. These fresh samples are more representative of ALL than cell lines used in previous research.
"This large batch of data coming directly from patient samples is very valuable to the field," Barnett said. "There is a large gap in epigenomic datasets, such as chromatin accessibility maps, coming from direct patient samples. This study is our effort to fill that gap and provide a useful resource for the scientific community."
Authors and financing
The study's other authors are Robert Mobley, Jonathan Diedrich, Brennan Bergeron, Kashi Raj Bhattarai, Shilpa Narina, Wenjian Yang, Kristine Crews, Christopher Manring, Hiroto Inaba, Sima Jeha, Ching-Hon Pui, Charles Mullighan, Mary Relling, Shondra Pruett – Miller, Jun Yang, William Evans, all of St. Alexander Monovich, Russell Ryan, University of Michigan – Ann Arbor; Elias Jabbour, Steven Kornblau, University of Texas MD Anderson Cancer Center; Elisabeth Paietta, Montefiore Medical Center; Mark Litzow, Mayo Clinic; Wendy Stock, University of Chicago Comprehensive Cancer Center.
The study was supported by grants from the National Cancer Institute (R01CA234490, P30CA021765, UG1CA232760, UG1CA189859, and U10CA180820), the National Institute of General Medical Studies (P50GM115279), and ALSAC, St. Louis' fundraising and awareness organization.
St. Louis Media Relations Contacts
michael sheffield
Secretary: (901) 595-0221
Cell: (901) 379-6072
michael.sheffield@stjude.org
media@stjude.org
Rae Lyn running
Cell: (901) 686-2597
raelyn.rushing@stjude.org
media@stjude.org
St. Louis Children's Research Hospital
St. Jude Children's Research Hospital is leading the way the world understands, treats and cures childhood cancer, sickle cell disease and other life-threatening diseases. It is the only National Cancer Institute-designated Comprehensive Cancer Center dedicated exclusively to children. Treatments developed at St. Jude have helped increase the overall childhood cancer survival rate from 20% to 80% since the hospital opened more than 60 years ago. St. Jude shares the advances it makes to help doctors and researchers at local hospitals and cancer centers around the world improve the quality of treatment and care for even more children. To learn more, visit stjude.org, read the St. Jude Progress blog, and follow St. Jude.@stjuderesearch.
---
Article publication date
November 20, 2023